The Win2PDF setup program creates a printer in the "Devices and Printers" folder named Win2PDF.
How to Create a OCR Searchable PDF file using Win2PDF
Normally, when text information is sent to the Win2PDF printer, Win2PDF converts the text into a searchable PDF. Some applications such as Google Chrome or Microsoft Edge send text to the Win2PDF printer as graphics. This causes the PDFs created from these applications to not be searchable. To resolve the problem, Win2PDF has an extra downloadable component called the "Win2PDF OCR Add-on" that adds optical character recognition capabilities so that Win2PDF can convert the graphics into searchable text.
To create an OCR Searchable PDF document:
•Install the "Win2PDF OCR Add-on" component.
•Open a document from a Windows application (Word, Excel, Edge, etc.)
•Print the document and select the Win2PDF printer
•The Win2PDF file save window pops up, allowing you to choose a name and location for the PDF as shown below: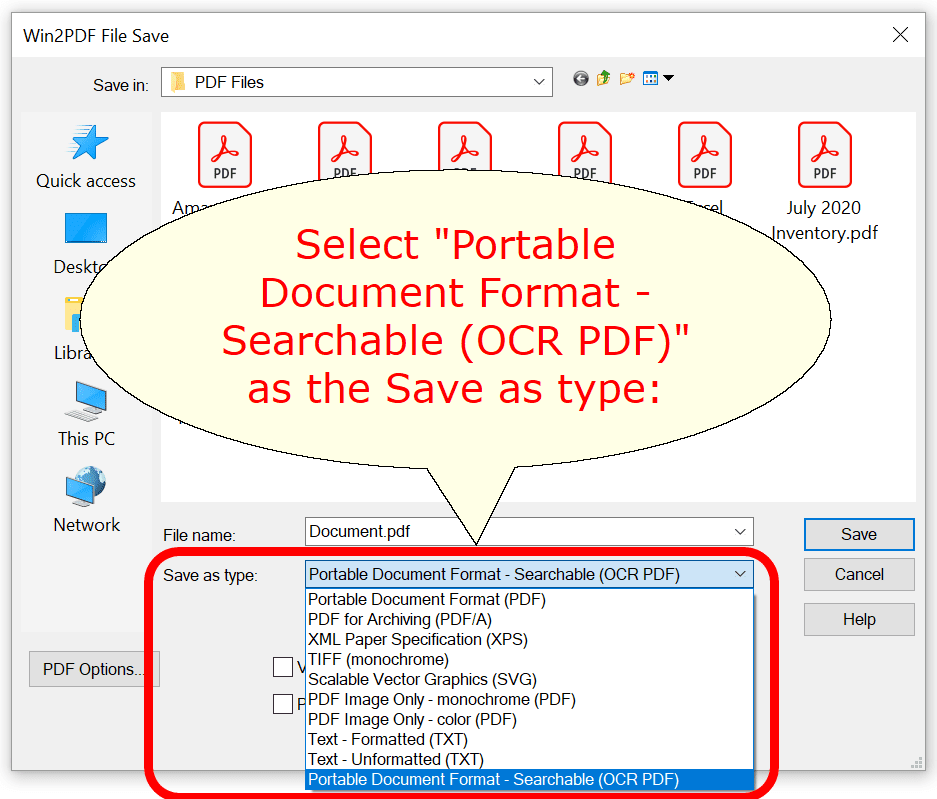 Win2PDF File Save Window
The default file name is supplied by the printing application. You can choose the "Portable Document Format - Searchable (PDF)" format from the "Save as type:" options. Win2PDF also supports the following formats:
•PDF - Portable Document Format
•PDF/A - Portable Document Format for Archiving (PDF/A-1b, ISO 19005-1:2005)
•XPS - XML Paper Specification
•TIFF (monochrome) - Tagged Image File Format
•SVG - Scalable Vector Graphics
•PDF Image Only - monochrome
•PDF Image Only - color
•Text - Formatted
•Text - Unformatted
You can choose a number of optional actions to take after the document is created by selecting the check boxes. The options include:
•View File - Opens the file in the default viewer after the file is created.
•Print File - Prints the file to the selected paper printer after the file is created to a Windows printer.
•Send File - Opens a new email message using the default MAPI-compliant email client and attaches the file to the message. The email program is specified in the Internet Options icon in the Windows control panel. Win2PDF can also be configured to send a PDF using Microsoft Outlook, Mozilla Thunderbird, Gmail, Outlook.com, Yahoo! Mail, or custom SMTP servers.
•Delete after Sending - Deletes the document after it has been sent using the "Send File" option.
You can use the file save window to browse to a new location before saving the document. Win2PDF remembers this location, and will use the same location the next time you create a document.
If you want to skip the save Window, see the Win2PDF Auto-name feature.
If you need to make an existing PDF file searchable, you can use the Win2PDF Desktop Export to Searchable PDF (OCR), or the Win2PDF MAKESEARCHABLE command line.